A selection of Peter Strobos' work was digitally on display with MyArtspace – Booth A32 at the SCOPE MIAMI 2010 show Nov 30th – Dec 5th, running concurrently with Art Basel Miami. SCOPE is the largest and most global art fair in the world featuring emerging contemporary art with 7 markets worldwide. An impressive list of journalists, writers, museum representatives, collectors and artists were expected at the show.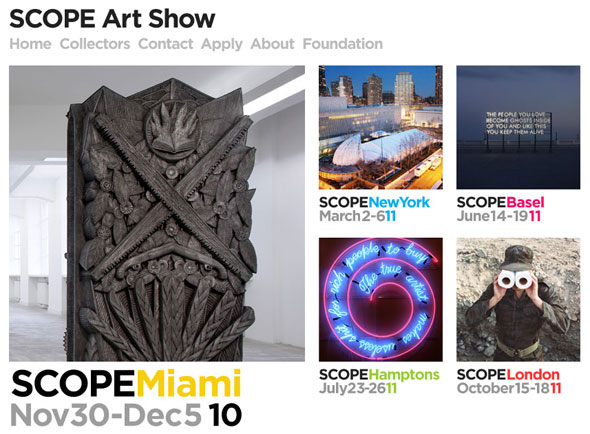 Peter Strobos was selected as a 'MyArtspace at SCOPE MIAMI 2010' finalist by Distinguished Jurors: Elisabeth Sussman, Senior Curator, The Whitney Museum of American Art, New York | Jarrett Gregory, Curatory of Contemporary Art, The New Museum, New York | Mollie White, Show Director, SCOPE Art Show | Catherine McCormack-Skiba, Founder & CEO, CatMacArt Corporation.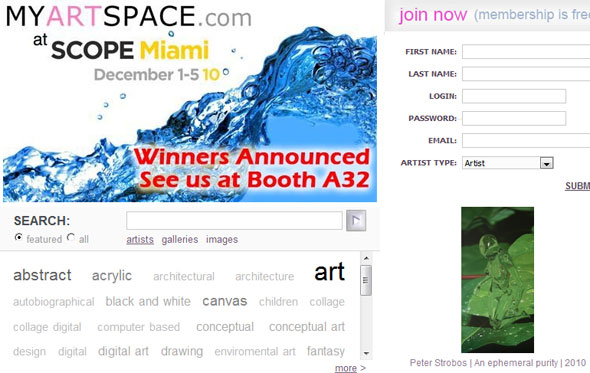 Peter Strobos' oil on linen painting, An ethereal synchronism, was chosen to represent MyArtspace at SCOPE Miami 2010 in the Exhibitors catalogue and on the SCOPE Art Show website.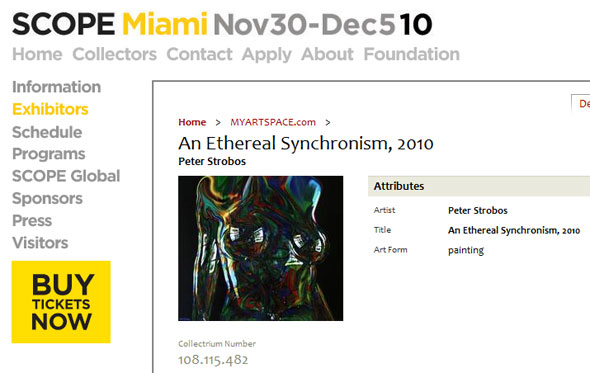 Below is a partial list of those that had accepted invitations and indicated they would be visiting Scope Miami 2010.
MUSEUMS expected to visit SCOPE MIAMI Show:
Museum of Contemporary Art (New York)
Museum of Contemporary Art, North Miami
The Guggenheim Museum's Young Collector's Council
Norton Museum's Young Friends groupdonors and trustees from the
Museum of Contemporary Art, San Diego
Upper Level Patrons from Lowe Art Museum
Frost Art Museum and Bass Art Museum
The Margulies Collection, the Cisneros Fontanals Art Foundation
The Museum of Arts and Design (New York)
The Studio Museum in Harlem (New York), and others.
Additionally, the following journalists and writers will be visiting
the show:
ArtForum
Modern Painters
Miami Magazine
Fox News Miami and the
New York Observer
Pin-Up Magazine
Hi-Fructose
The Daily
VICE Magazine.
Excerpt from the Scope Art Show website:
SCOPE Art Show celebrates tenth year with return to 2008 Midtown Miami location
Miami, Florida – The art show that has established its name by curating cutting-edge contemporary art from around the world proudly returns to Miami for its tenth year. Cementing its future with an 80,000 square foot pavilion across the street from Art Miami, SCOPE Miami's high-profile venue is centrally located in the heart of the Wynwood Gallery Arts District. Running concurrently with Art Basel Miami, SCOPE's Midtown Miami home is just steps from The Rubell family collection, Margulies Collection at the Warehouse and Goldman Collection. The fair opens to Press and VIPs on Tuesday, November 30 with the FirstView benefit.
This year's Miami edition of the fair, November 30-December 5, 2010, will present 75 international galleries upholding SCOPE's unique tradition of solo and thematic group shows presented alongside museum-quality programming, collector tours, screenings, and special events. The unique SCOPE experience expands this year in partnership with local and international cultural organizations, featuring: film, music, installation and performance. "This season we want to highlight SCOPE's lead role as creative R+D for a wider audience of taste makers who make art their business," says SCOPE President & Founder Alexis Hubshman. "Introducing artists, curators, and cutting-edge galleries to new international audiences has made SCOPE the most comprehensive destination for the emerging art world."
In over thirty five fairs spanning the past ten years, SCOPE has solidified its position as the premier show-case for international emerging contemporary art. With art fairs in Miami, Basel, New York, London and the Hamptons, SCOPE Art Show has garnered critical acclaim, with sales of over $100 million and attendance of over 30,000 visitors.